Green Party Condemns Biden's Approval of Willow Oil Project in Alaska
Do you like this post?
---
The EcoAction Committee of the Green Party of the U.S. joined with People vs. Fossil Fuels and many other climate groups in the widespread condemnation of the Biden administration for approving the massive new Willow Oil Project in the Alaska Wilderness.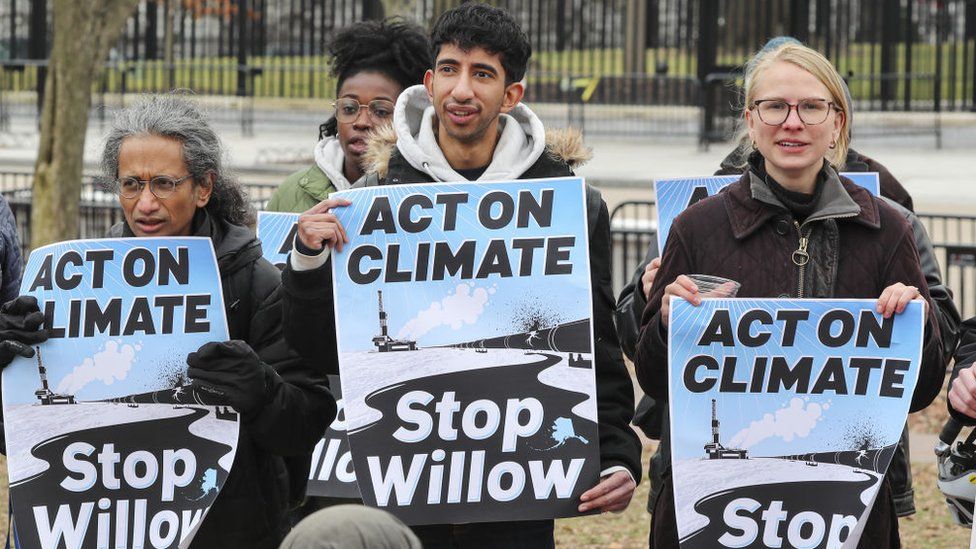 IMAGE SOURCE,

GETTY IMAGES 
Activists called for the Willow project to be halted over its climate and wildlife impacts
"This project is a climate disaster, expected to produce over 600 million barrels of crude oil over three decades. Despite the world facing a climate emergency, time and again we see members of the Democratic Party promise progress on climate to win votes of rightfully concerned citizens, only to cave to industry pressure and their campaign donations. Biden has betrayed all those who will suffer from the merciless and devastating consequences of climate change for generations to come," said Dr. Justin Paglino, a 2022 Green Party candidate for Congress from New Haven Connecticut.
The Biden campaign made repeated campaign promises to end fossil fuel leasing on public land. 
Biden abandoned his pledge almost immediately once becoming president.  Already by April 2021, his administration was announcing plans to resume selling leases for new oil and gas drilling on public lands, and by July of 2021, the administration was holding new onshore lease sales and proposing a plan for offshore drilling in Alaska's Cook Inlet and the Gulf of Mexico.  By the end of his first year in office, he had issued 3,557 permits for oil and gas drilling on public lands, beating by far even the Trump administration's first-year total of 2,658. 
Dr. Paglino added, "I implore all environmental groups and individuals to abandon hope that the Democratic Party will ever give up its allegiance and ties to the oil and gas industry.  It is their business model and they will not abandon it."
Willow locks the U.S. into decades of fossil fuel pollution at a time when we instead should be stopping all new fossil fuel projects and begin rapidly phasing out existing production. The approval is a denial of climate science. The project is in the National Petroleum Reserve-Alaska, the nation's largest expanse of public land. For more than a decade, the Green Party has called for a presidential declaration of a climate emergency to unleash additional powers for the president to halt to use of fossil fuels.
https://www.bbc.com/news/world-us-canada-64943603 
https://insideclimatenews.org/news/03032023/protesters-biden-willow-project-alaska/
Do you like this post?
---